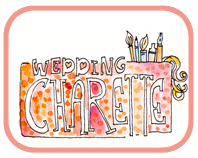 This was a charette I had a lot of fun working on. When the infectiously enthusiastic Allison sent me her details, I was thrilled to discover that we share a love for books and that I even have some of her bookshelf inspirational pictures in my collection!
I also really enjoyed a lot of the links she sent me of their 'aesthetic'. Looking through them I had a clear idea of what Allison and Travis' style is like-classic, a touch of vintage, an appreciation for elegant old world materials and craft, but with a down to earth wit that I think would make them interesting to brainstorm for.
First of all, I knew their invitation would need to be book related. My initial idea was to have a sort of book lending/gifting invitation system, with their invitation as mini book jackets that wrap around old vintage hardbound books (think bookcloth classics).  Their guests would get to keep them of course or read them and return it with the RSVP if the book is lovingly lent out.
Allison and Travis have a small guest list, only 20, which gives them the ability to be really hands-on or artisan with their invitations. Their wedding, which takes place in beautiful Santa Fe is not till June of next year, so there will be plenty of time to amass a collection of vintage hardbound mini books.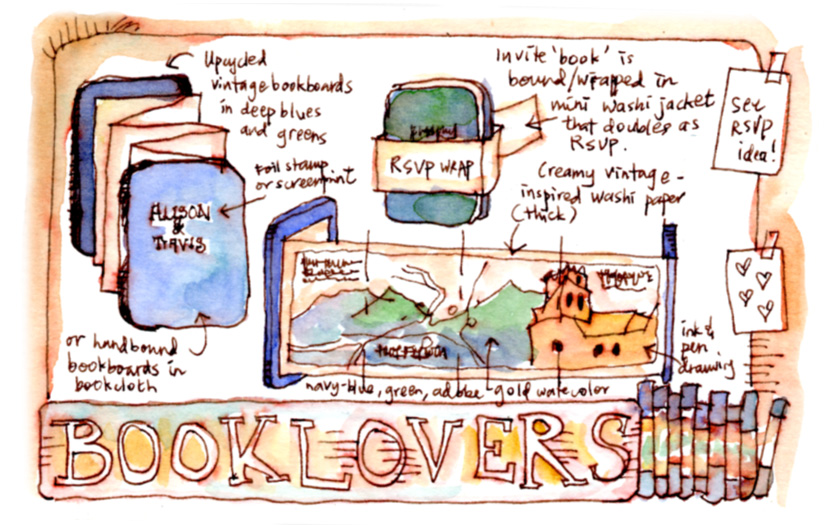 However, the invitation idea that I finally sketched up is a little different and can be approached in a few ways. It is essentially the idea of a gifting their guests a beautiful little book bound in classic bookcloth in either of their wedding colors -navy blue, green and adobe gold. In my mind, I envision the bookcloth bound bookboards as being upcycled from discarded old books, easily found in flea markets or on ebay. Only the front and backs of the boards with their covering are retained. Some cheap ones readily found would be the Readers' Digest condensed books. Not a used bookstore favorite but great for altered book arts.
A panoramic painting of a map-style or an illustration (in indigo blue ink) of their beautiful rustic Church or school with the quintessential Santa Fe backdrop is printed on creamy, thick Japanese washi hand-made paper (a favorite of book conservationists) and glued to the boards to fold out accordion-style. Faint watercolor washes in navy blue for the skies, green for the vegetation and gold for the adobe. Fonts are whimsical serif fonts reminiscent of vintage type set, but quirkier. Invitation information is tastefully placed within the painting. The effect is like recovering a beautifully illustrated old book from your grandmother's collection, but with a twist.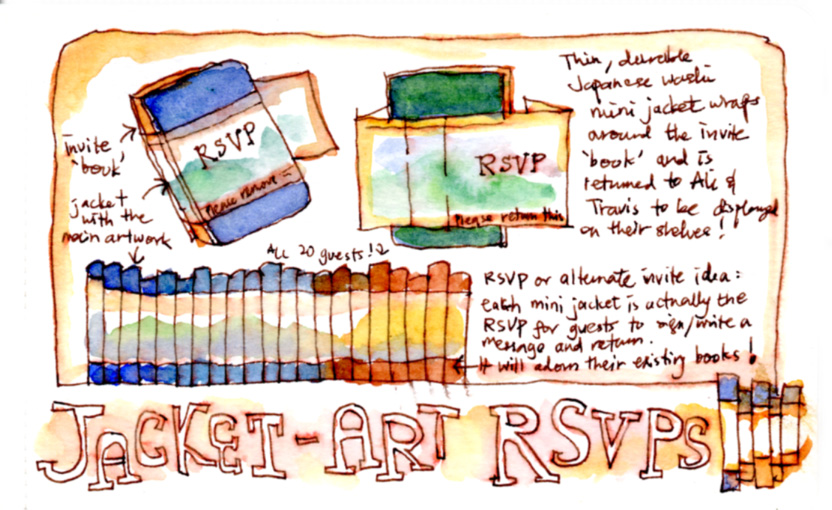 In my second sketch, I expanded upon my original idea for the mini book jacket wraps (which the invite-books come in). In this particular scheme, they serve as the RSVPs. The idea is for their guests to return these RSVPs along with a hand-written message for the bride and groom-to-be. When all 20 mini jackets are wrapped around books and lined up on the shelf, they form the original panorama painting found in their invitation. Re-useable RSVPs that double as bookshelf/book art! I see this jacket as being made from strong but thin Japanese washi paper with their delicate and classic whispy-ness.
Congratulations Allison and Travis, I hope this little bit of exercise will help to flesh out some of your invitation ideas!