Beerings for Change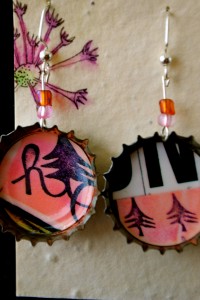 Beerings are ONE OF A KIND, HANDMADE, ECO-friendly earrings made from upcycling beer bottle caps.  The designs are typically from old calendars or magazine pictures and are sealed with an eco-polyurethane. All beerings are made to support our programs or are donated to other non-profits we align ourselves with to fundraise for a goal mutually.  Each pair of beerings are unique, handmade, crafted with love, and go toward building a greener future.
Below are some examples, a webstore will soon follow.  For now, please contact me directly if you are interested in purchasing a pair, carrying beerings in your store, or would like to use beerings as a fundraiser for your own cause of which special limited edtion designs can be made for you.
Beerings are currently sold at:
Komodo Boutique -Chicago
Green & Greener -Valley Village, CA
Nori's Eco Salon – Encino, CA
Merry's – Long Beach, CA
Pull My Daisy -Silverlake, CA
Here is a sample gallery of some of our previous Beering designs.